The bearish onslaught has taken a toll on the price of Filecoin, which slipped below the $6 mark, and the bears now have a strong foothold. On the one-day chart, Filecoin is showing consolidation with a loss of 1.1%. Over the last week, the coin has depreciated by nearly 17%.
The technical outlook for Filecoin indicates bearish pressure, with a drop in demand and accumulation. If sellers push further, it will add to the bearish pressure.
Bitcoin's struggle to stay above $30,000 has affected other altcoins, keeping them below their immediate resistance levels.
The demand must recover in the next trading sessions for FIL to jump above the $5.50 price. The decline in the market capitalization of Filecoin over the past day also indicates growing selling pressure. Broader market strength remains crucial for the altcoin's price movement over the subsequent trading sessions.
Filecoin Price Analysis: One-Day Chart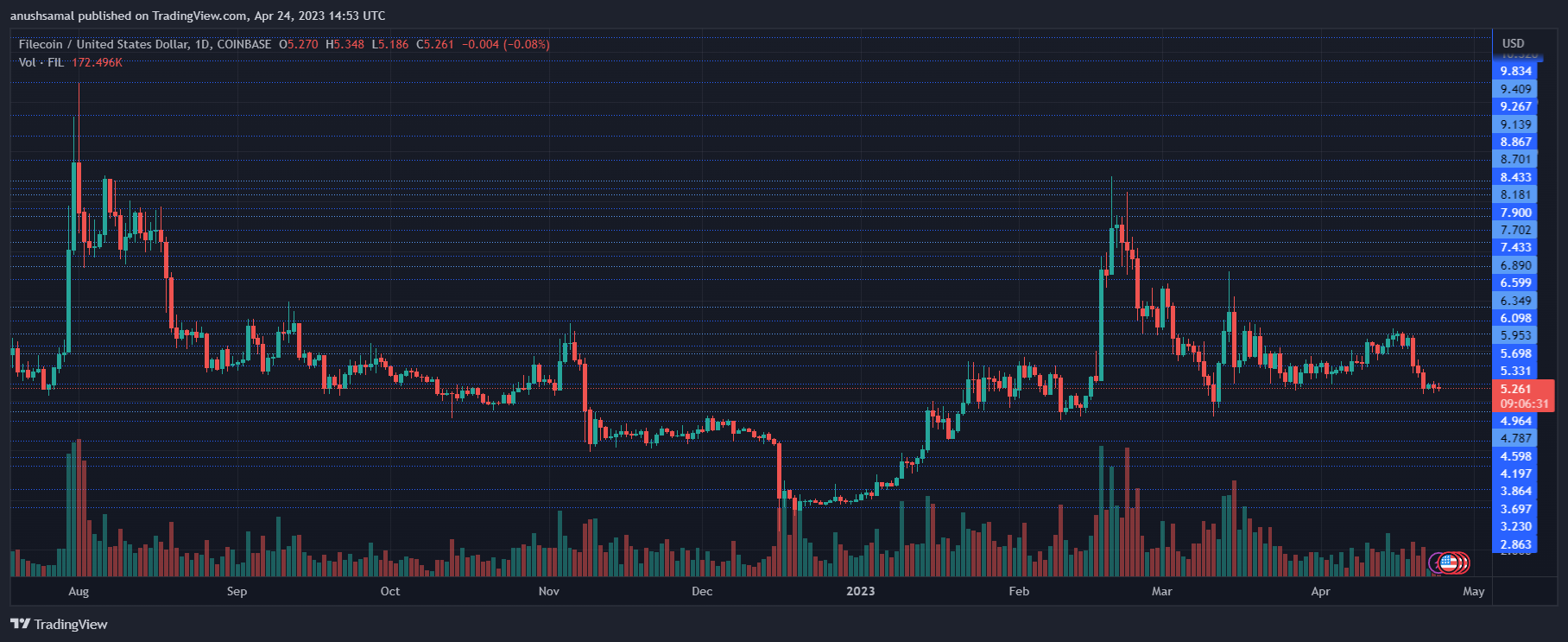 At the time of writing, the trading price for FIL was $5.26. Following its drop below the $6 mark, Filecoin has experienced a continuous free fall. The coin faces overhead resistance at $5.60; surpassing this level will push the coin towards $6, with a potential attempt to trade at $6.30.
Conversely, failing to trade at the current level will establish local support for the coin at $4.90. If the price falls below this level, it will reach $3.80, strengthening the bears. In the last session, the amount of Filecoin traded was in the red, indicating a drop in demand.
Technical Analysis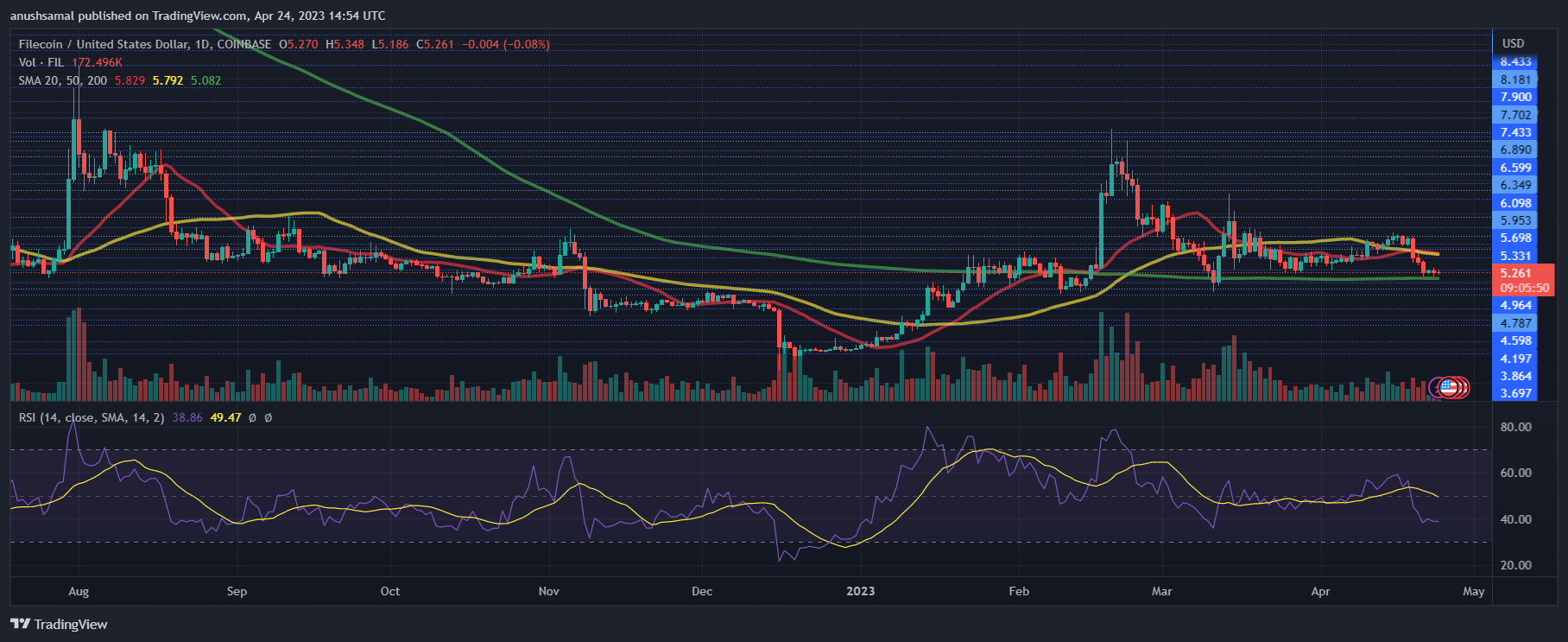 Over the past few trading sessions, the buying strength for FIL has decreased considerably due to a fall in demand. The Relative Strength Index showed that the buying strength had depreciated, and selling strength had taken over, as the index was below the 40 mark.
Additionally, the FIL price dropped below the 20-Simple Moving Average line, indicating that sellers had taken control and were driving the price momentum in the market. However, if Filecoin surpasses the $5.60 mark, the coin may rise above the 20-SMA line, bringing back the bulls.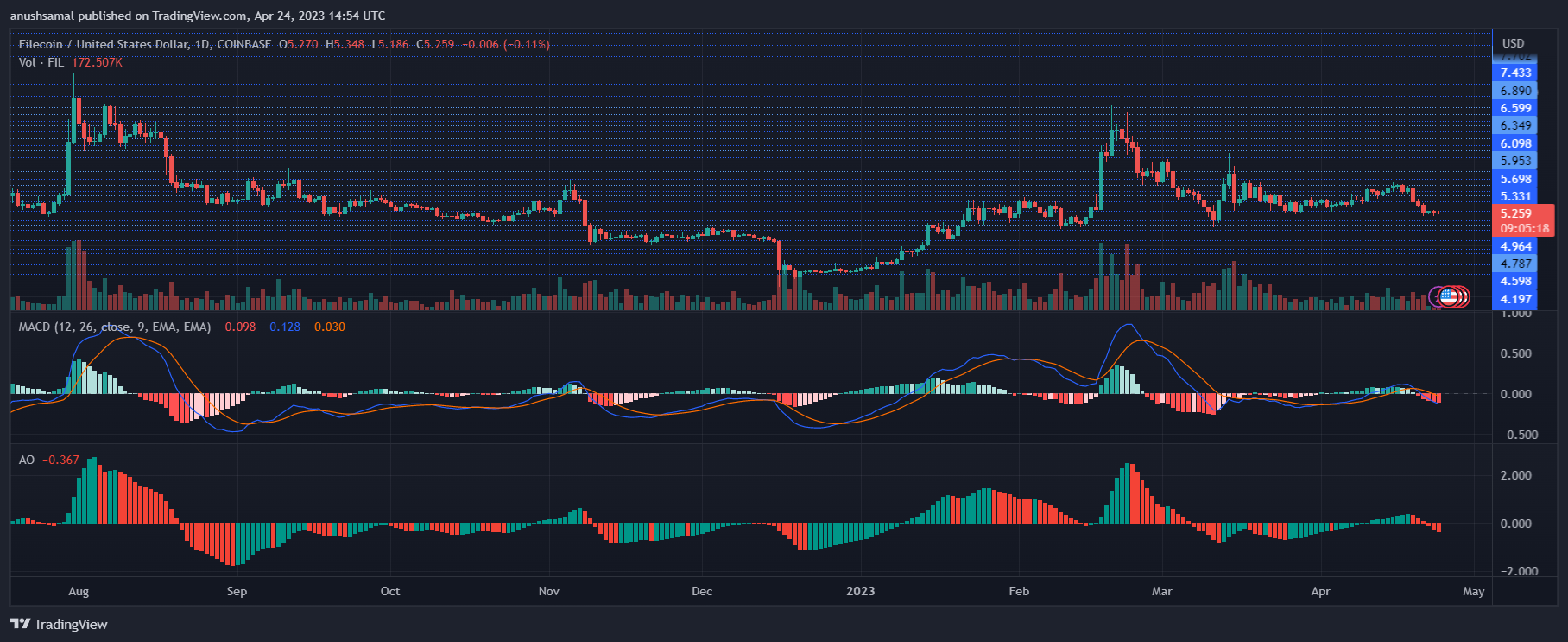 At the time of writing, Filecoin gave sell signals in line with other technical indicators. The Moving Average Convergence Divergence showed red histograms, indicating sell signals for price momentum and trend reversals.
These signals suggested that FIL may experience further decline over the next trading sessions. The Awesome Oscillator, which measures price momentum and movement on the chart, formed red bars under the half-line, indicating that sellers had taken control of the market price and that FIL was experiencing bearish momentum. For the coin to initiate its recovery, FIL must surpass the overhead ceiling.