75% of all fiat volume in Binance, the largest cryptocurrency exchange by client count, is dominated by the Turkish Lira (TRY). At this rate, Kaiko, a blockchain analytics firm, confirms that the Turkish Lira is the most preferred currency, pointing to a shift in the global dynamics, especially regarding crypto adoption. 
Turkish Lira Popular Fiat In Binance
As of September 14, 75% of all fiat volume was in Turkish Lira, ahead of the Euro and Brazilian Real (BRL). In the past three years, an unidentified cryptocurrency has gained popularity over traditional fiat currencies.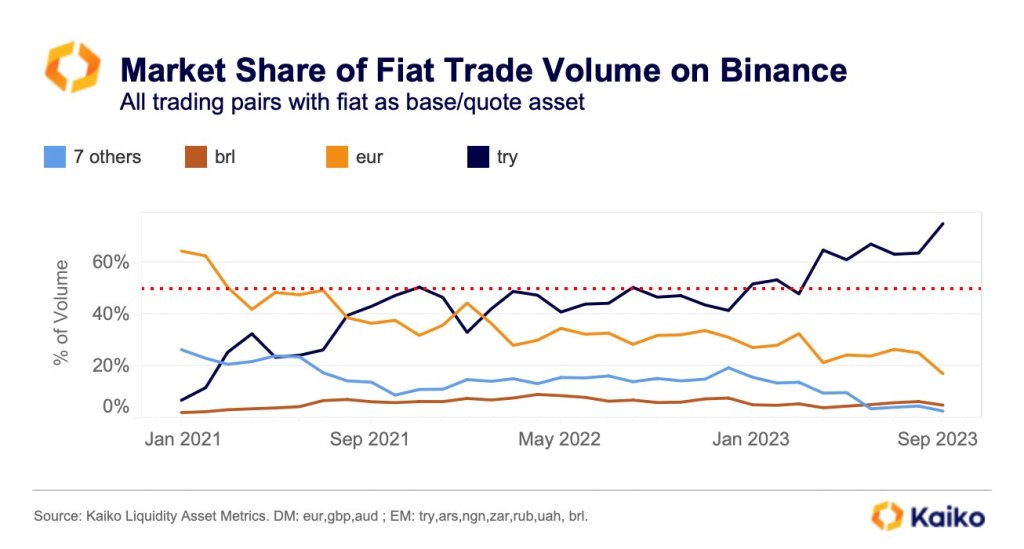 From 2021, TRY's use was among the lowest, with the Euro and BRL being popular. However, the trend changed in 2022 as adoption spiked, pushing the currency to the top in 2023.
When writing on September 14, Binance remains the most popular cryptocurrency exchange, supporting over 380 coins. At the same time, the crypto exchange supports over ten fiat currencies, of which other coins, besides those mentioned above, include the Nigerian Naira, GBP, and the Australian Dollar (AUD). 
Looking at statistics, USDT, TUSD, and FUSD pairs are among the most liquid. This observation has been confirmed by Kaiko data, which shows that fiat trading on Binance had contracted by over 95% from 2021 when prices of top crypto assets peaked. By November 2021, Bitcoin prices had soared to nearly $70,000, lifting trading volumes in fiat and stablecoin pairs.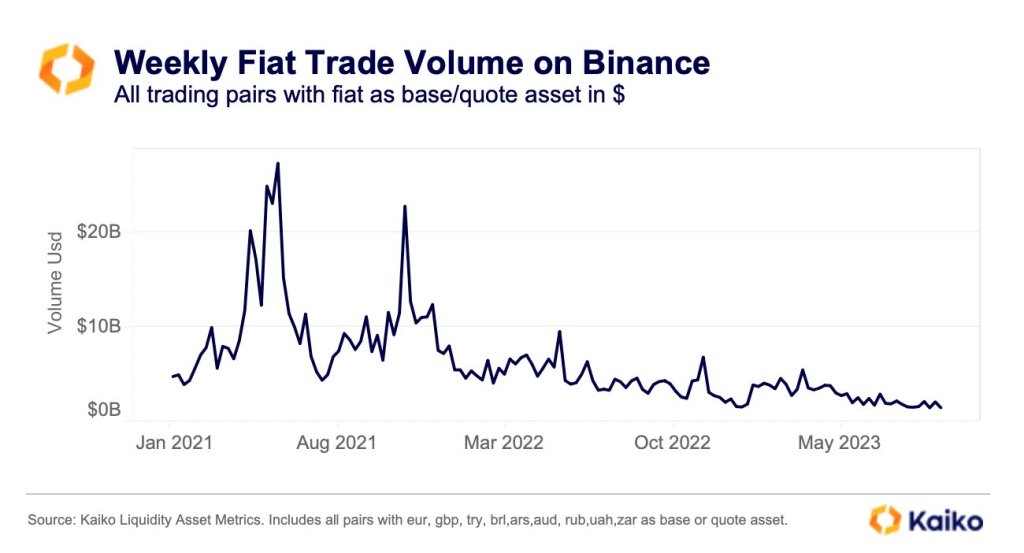 USDT And Stablecoins Still Reign Supreme
CoinMarketCap data reveals that the BTC/USDT pair is the most liquid, with the average daily trading volume exceeding $986 million when writing. On the other hand, the BTC/TUSD attracts over $486 million in trading volume. 
This development highlights the level of liquidity of stablecoins and how they are entrenched in crypto trading. For example, the processing of fiat deposits or withdrawals on Binance can range from hours to days, depending on the method used.
Unlike fiat currencies, stablecoins are more fluid and can be transferred within seconds. For instance, USDT, the world's largest stablecoin by market cap, is available in over five blockchains, with Ethereum and Tron emerging as the most popular minting platforms. 
Following the delisting of USDC, BUSD volumes spiked. However, the New York Department of Financial Services (NYDFS) directive, barring Paxos–the then issuer–from minting new tokens, saw activity shrink as USDT cemented its position. TUSD and FUSD activity on Binance remains high, as data shows.
A recent survey by KuCoin, a crypto exchange, reveals that over 50% of people in Turkey own crypto. The Turkish government has also been experimenting with a central bank digital currency (CBC), the Digital Lira.