In recent weeks, Dogecoin has faced a downward trend in its price momentum, largely due to the emergence of PEPE coin, which has overshadowed its popularity. Over the past 24 hours, DOGE has shown limited upward movement, with a mere 1% increase. The meme-coin has experienced a significant decline in price, indicating a prevailing bearish control.
The technical outlook of Dogecoin showed that bears are currently influencing its price. Both the demand and accumulation have dipped, suggesting a decrease in buying activity.
Moreover, the rejection of Bitcoin at the $27,000 price mark has hurt major altcoins, including Dogecoin, resulting in a decline in their respective charts.
For Dogecoin to maintain its position above its immediate support level, it needs a recovery in buying strength. If it fails to do so and loses its current support level, it could experience another significant drop in value before any signs of recovery. Additionally, the decline in the Dogecoin market capitalization further indicates a fading buying strength at the time of writing.
Dogecoin Price Analysis: One-Day Chart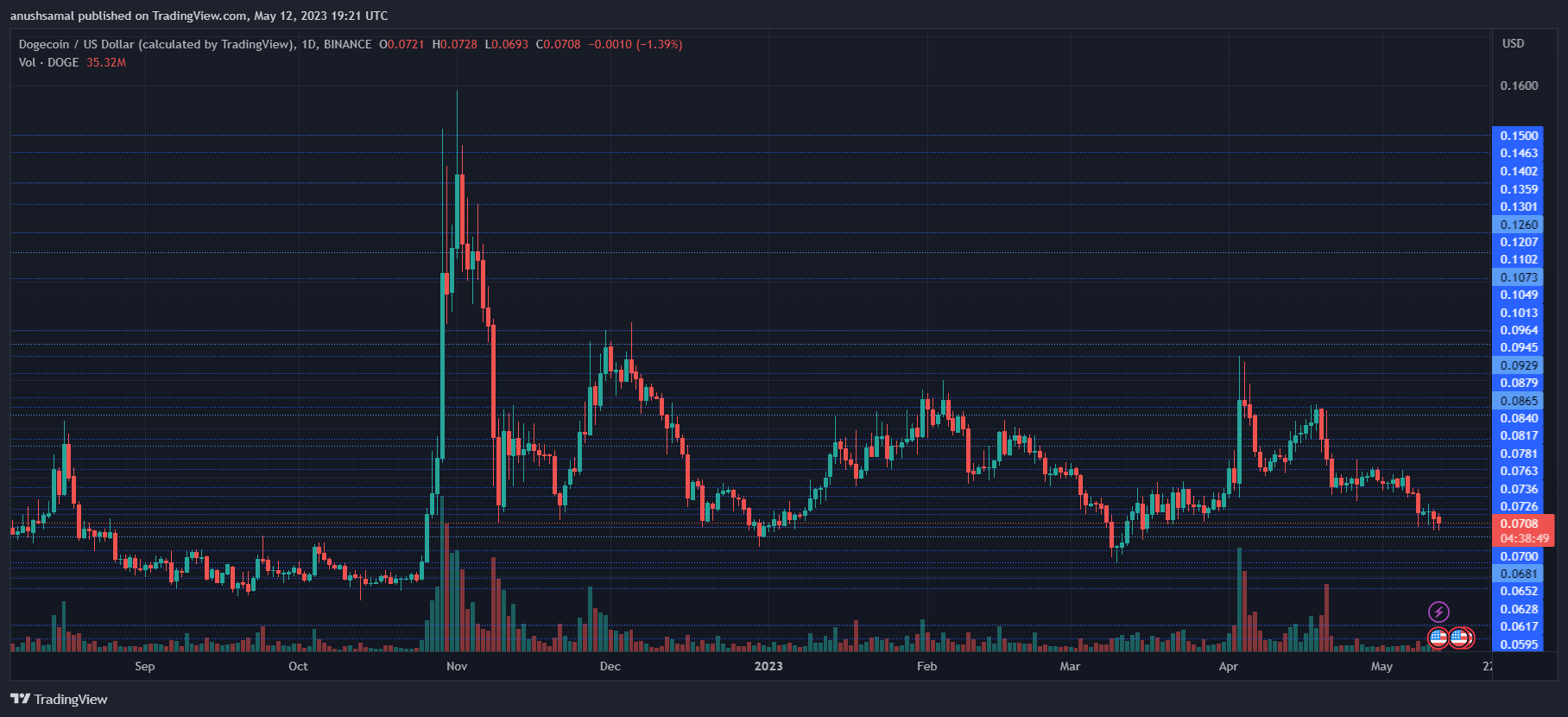 As of the time of writing, Dogecoin (DOGE) was trading at $0.070. The meme-coin has been struggling to recover after facing rejection at $0.076, with the bulls unable to gain momentum. The current overhead resistance for DOGE is $0.073. If this level is breached, it could propel the meme-coin to $0.078.
However, if the price falls from its current level, it will likely reach $0.068 and potentially drop further to $0.066, resulting in a nearly 6% decline in value. The trading volume of DOGE in the last session indicated a red signal, indicating mounting selling pressure.
Technical Analysis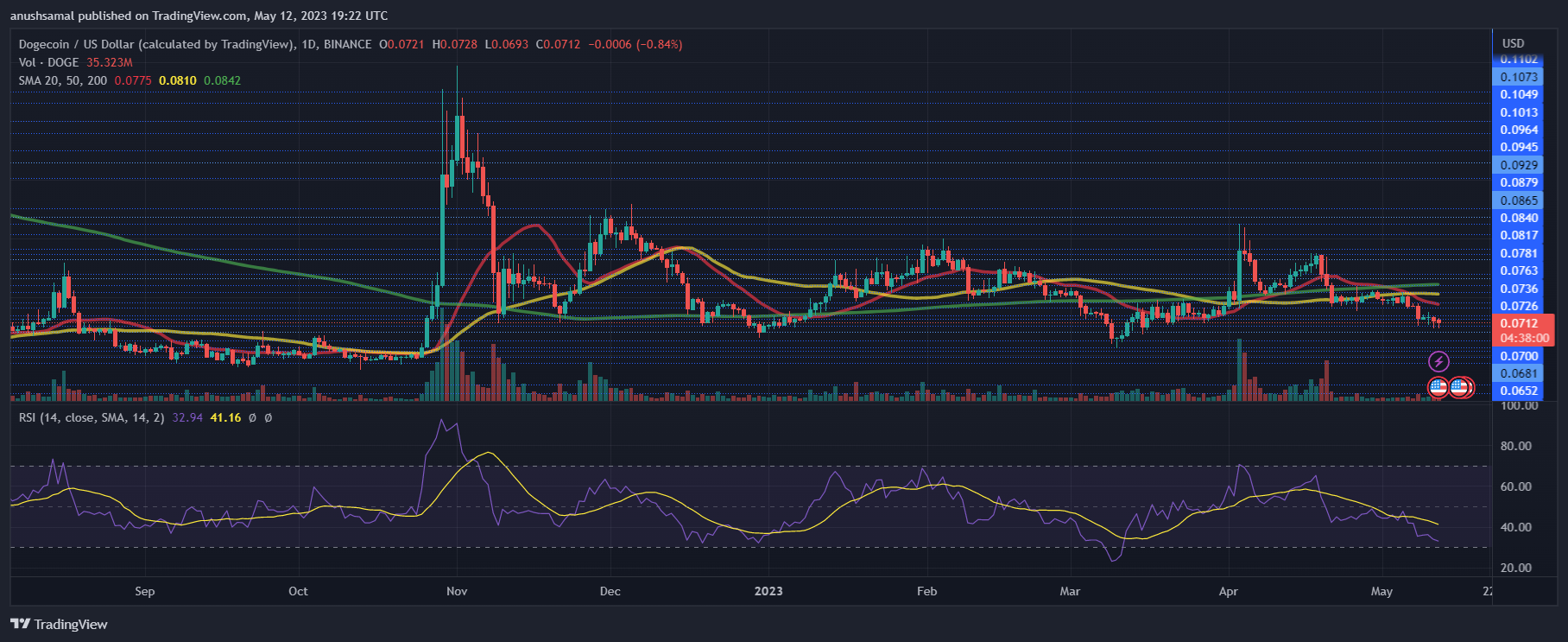 Throughout the majority of the month, the demand for the meme-coin remained low. This was evident from the Relative Strength Index (RSI) staying below the 40-mark and nearly reaching the 30-mark, indicating oversold conditions.
Additionally, the asset's price consistently traded below the 20-Simple Moving Average line, suggesting that sellers were the driving force behind the market's price momentum.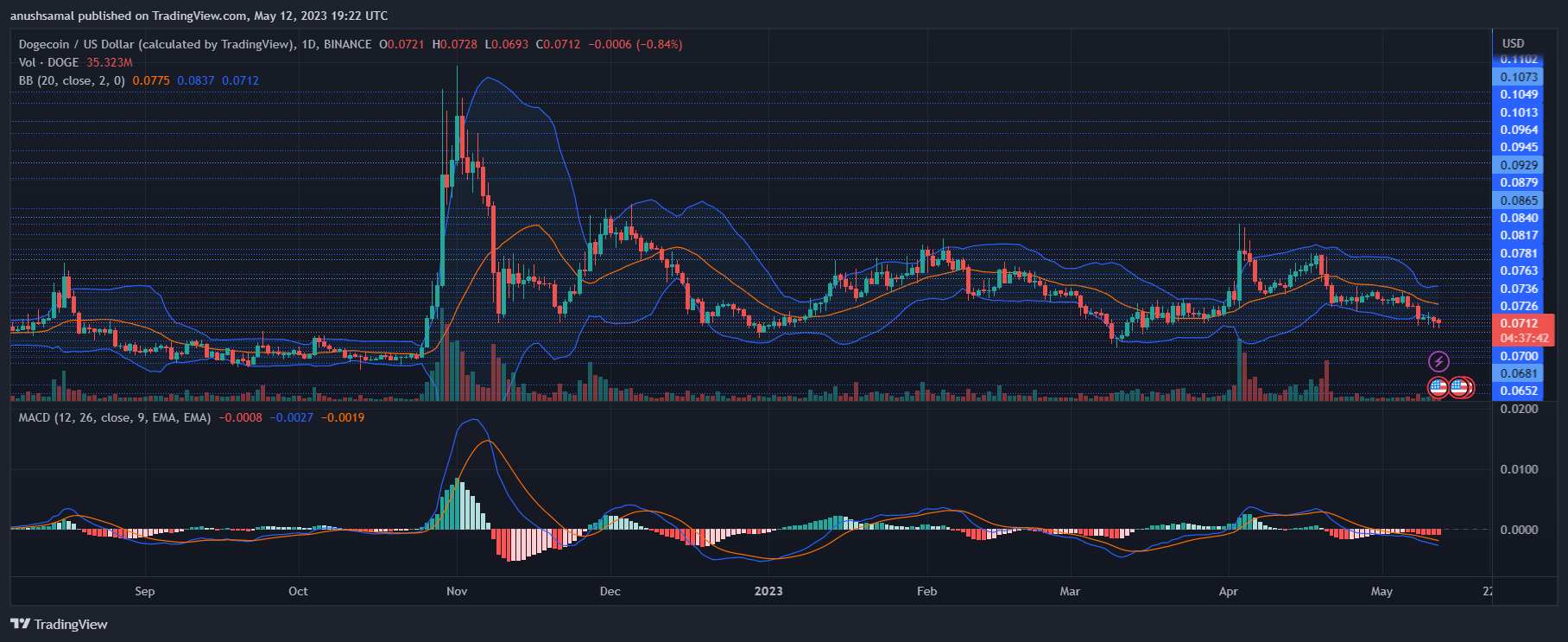 Throughout this month, DOGE has lacked positive demand, and its chart displays sell signals. The Moving Average Convergence Divergence (MACD), which indicates price momentum and reversals, formed red histograms below the half-line.
This suggests a signal to sell, indicating a potential decline in price in the upcoming trading sessions. The Bollinger Bands indicator has widened regarding price volatility and fluctuation, indicating that DOGE may experience price fluctuations in the next trading session. For Dogecoin to recover shortly, it heavily relies on broader market strength.